Sustainability
EXEDY Group's Sustainability Activities
Our Contributions to Society
As an exceptional corporate citizen, contributing to local communities is essential. At the EXEDY Group, each company carries out these activities in line with their specific circumstances.
Establishment of the Disaster Prevention Park at the Headquarters in Neyagawa
EXEDY donated a piece of land near the Headquarters to Neyagawa City and Osaka Prefecture, and completed the construction including the surrounding roads. The Disaster Prevention Park serves as an evacuation site and is equipped with solar-powered LED lighting and emergency toilets etc.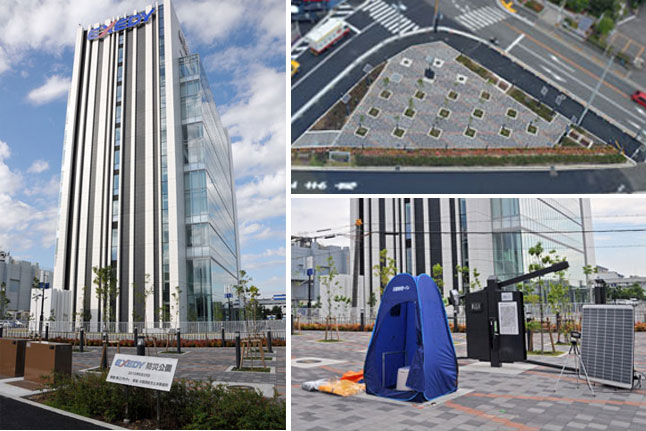 Clean-up and Tree Planting Activities
Together with the EXEDY Workers' Community (workers' union), employees and management united their efforts to carry out environmental activities. Every year, we carry out the Clean Campaign (clean-up and tree planting in the areas surrounding the company) and participate in the Clean River Neyagawa (cleaning activities of the Neyagawa River).
Clean River Neyagawa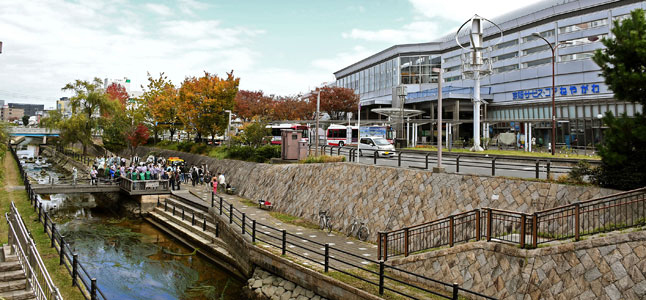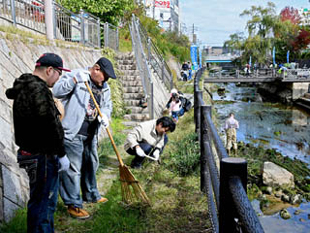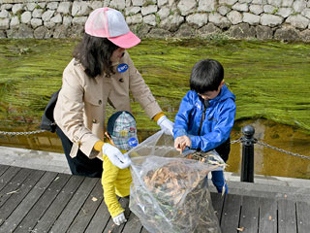 Clean Campaign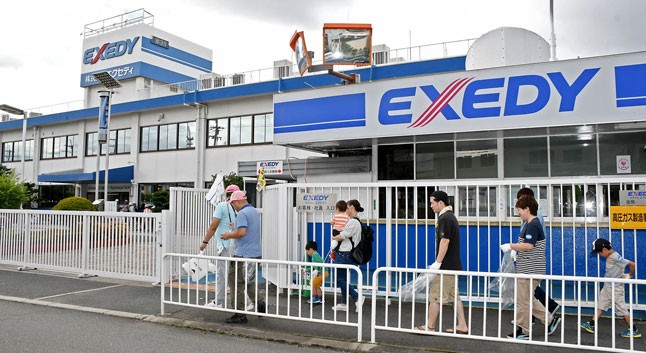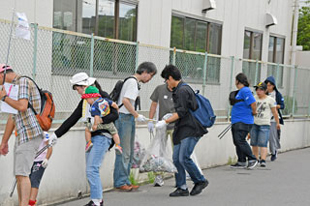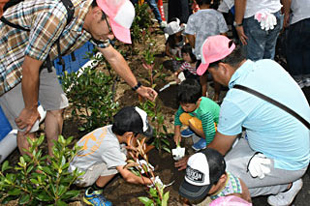 Supporting Student Auto Racing Competitions (EXEDY)
We at EXEDY support student formula and solar car races in order to develop future engineers as well as improve automobile technologies. We hope that these students, through the process of building a vehicle, will work hard at improving fuel efficiency and lowering production costs, and from this grow into engineers that can create automobiles that are environmentally friendly.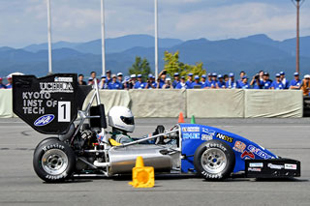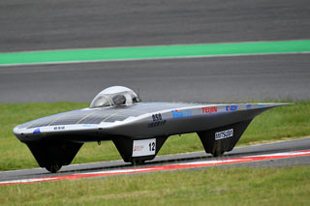 Student Formula (left) / Solar Car Race (right)
Student Formula (left)
Solar Car Race (right)
Volunteer Activities
Here we introduce the volunteer activities carried out by EXEDY Group.
EXEDY DYNAX Shanghai Volunteer Team Initiatives

The volunteer team established in December 2008 at EXEDY DYNAX Shanghai carries out activities contributing to the local community. The volunteer team initially consisting of only two members at its foundation, currently exceeds 100 members. Activities include cleaning of the company premises and neighboring housing complexes, cleaning and supporting the childrens' study at the welfare institution for children, and organizing the books at the library. In 2016, the volunteer team was awarded the prize of 'Leading Organization' from the development district where the company is located and from the Fengcheng District Library they received the 'Excellent Volunteer Team Award'. The team even made an appearance in the media.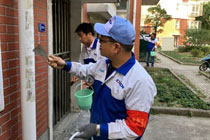 Cleaning-up Neighboring Housing Complexes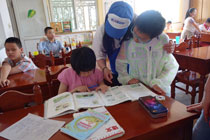 Volunteer Activities at the Welfare Institution for Children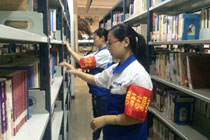 Organizing the Books at the Library
EXEDY DYNAX Shanghai Volunteer Team Awards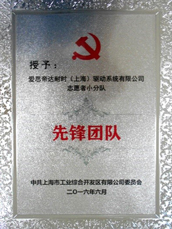 2016 Shanghai Development District 'Leading Organization Award'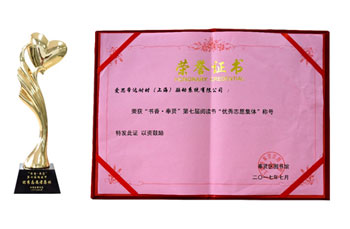 2017 Fengcheng District Library 'Excellent Volunteer Team Award'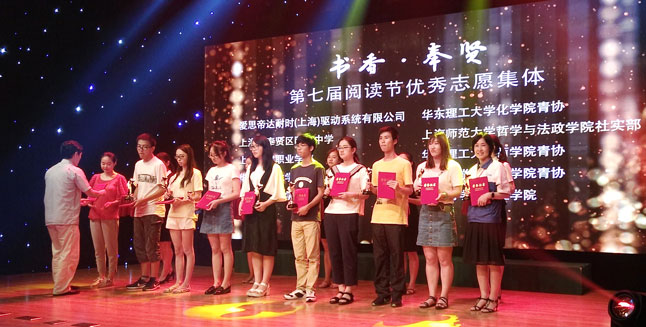 Maintaining the National Park (EXEDY Thailand)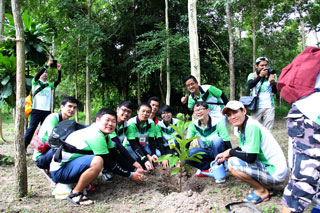 On June 24, 2017, as a part of their CSR activities, EXEDY Thailand visited Kao Chamau Kao Wang National Park, where they built a dam, planted banana trees and installed a mineral supply for wild elephants. Everyone enjoyed the fulfilling activities together.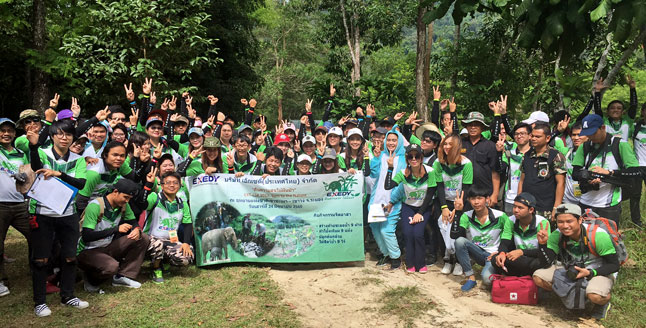 Blood Donation Campaign (EXEDY Malaysia)
On August 12, 2016, EXEDY Malaysia hosted a blood drive at their training room. 80 people, including employees from neighboring companies, participated. This activity raised awareness among the employees about their part in Malaysian society, and it increased the sense of solidarity with the other companies.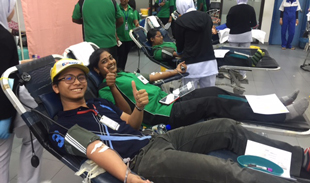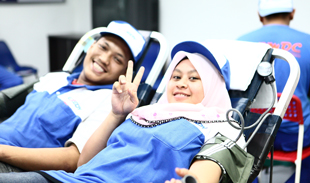 Donations
Here we introduce EXEDY Group's donations.
Volunteer Activities to Collect Supplies to Support Reconstruction after East Japan Great Earthquake Disaster (EXEDY)
EXEDY participated in the "East Japan Great Earthquake Disaster Reconstruction Support Volunteer Activities" organized by Nihokai (Kyohokai and Eihokai), held every year, and collected and donated unneeded mobile phones, postcards, unused stamps, telephone cards and bellmark points.
Money donation to the Kumamoto Earthquake-stricken Area (EXEDY)
Through the Kansai Association of Corporate Executives, we donated 1 million yen to the affected areas of the Kumamoto earthquake. On June 13, 2016, Hiroyuki Suzuki, Representative Director of the Kansai Association of Corporate Executives visited the Kumamoto Prefectural Office and handed over a logbook to the Vice-Governor of the Kumamoto Prefecture, Taisuke Ono. We hope for a quick recovery for everyone affected by the disaster.
Donation of a Water Purification System to an Elementary School (EXEDY Thailand)
120 employees, including Ryu Suzuki, (former) President of EXEDY Thailand, visited a neighboring elementary school on May 29, 2016 for the donation of the water purification system and volunteering activities. Together with the children our employees painted the walls and cleaned up the school building. They also played games and in the end all 97 students sang a song of gratitude. Our employees thoroughly enjoyed their involvement in the activities.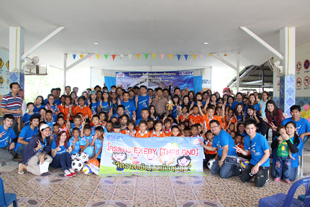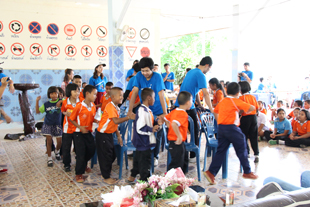 Donation to a facility that helps people infected with coronavirus (EXEDY Thailand)
On September 28, 2021, the president of EXEDY Thailand and 25 other employees visited a facility that treats people infected with coronavirus and donated masks, protective clothing, and alcohol sanitizers, as well as other necessary items. After the visit, all participants conducted a cleanup activity at a nearby swimming beach.
Contribution to Arts Support Kansai (EXEDY Trading)
Since March 2016, we cooperate with Arts Support Kansai, an organization supporting art and culture in the Kansai Region. For every drink sold at the vending machines installed at the EXEDY Headquarters, Ueno Division and EXEDY Nara, one yen is donated. On a yearly basis this accumulates to an amount of approximately 1 million yen.
Contributing to the Region
The EXEDY Group has strong connections with local societies.
Workplace Experience for Junior High School Students
Every year we invite junior high school students to the headquarters in Neyagawa and EXEDY Precision in Mimasaka City for a workplace experience. The students go on a plant tour and study about the products, get practical inspection training, create drawings and make their own business cards; they learn what it means to "work".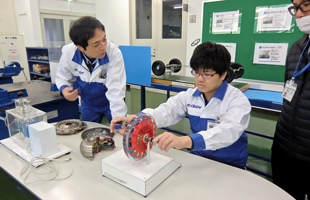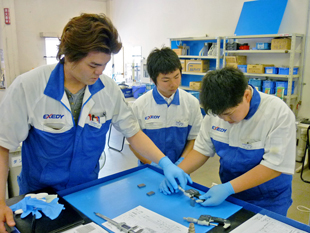 Fire Fighting Competition (EXEDY Fukushima)
New employees take part in the fire fighting competition sponsored by the Kitakata City Fire Department in Fukushima Prefecture, held in June every year. Here new employees put the skills they acquired during the new recruitment training into practice, and compete for the top places every year.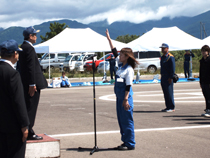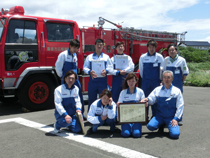 Activities Involving Employment
Employment of Handicapped People
26 employees with disabilities (as of March 2020) work at our special subsidiary, EXEDY Sun Co., Ltd.
In addition, employees with hearing disabilities and those with impaired arms or legs work in the same way as non-handicapped people, while receiving the necessary support within the company.
On October 13, 2020, EXEDY Trading was selected by the Osaka Prefectural Employment Development Association as an excellent employer for persons with disabilities and received an award. The association highly values the company's active approach to employing people with disabilities.
Reference:
Diversity — Employing People with Disabilities
Providing Internship Opportunities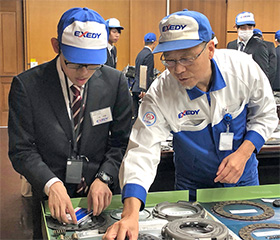 We have an internship system that provides opportunities for students to have a work experience so they are better able to choose their vocation and determine what they are good at.
In FY 2019, we offered internships in die design, equipment development, 3D inspection, etc. at the Production Engineering Headquarters for two weeks in August. In September, we had week-long internships at the Development Headquarters, and participant experienced evaluating the reliability of a clutch. These are valuable experiences that students usually do not gain at school.
In addition to that, we hold one-day internships in summer and winter.
Social Contribution Activities Expenditure
(million JPY)
| | FY2017 | FY2018 | FY2019 | FY2020 | FY2021 |
| --- | --- | --- | --- | --- | --- |
| Donations | 3.9 | 2.9 | 5.9 | 0.6 | 2.4 |
| Community Investment | 31.1 | 31.0 | 31.2 | 31.4 | 33.8 |
| Total | 35.1 | 33.9 | 37.1 | 32.0 | 36.3 |